Freedom Day: What are the rules from 19th July?
19 July 2021, 10:58 | Updated: 20 July 2021, 14:47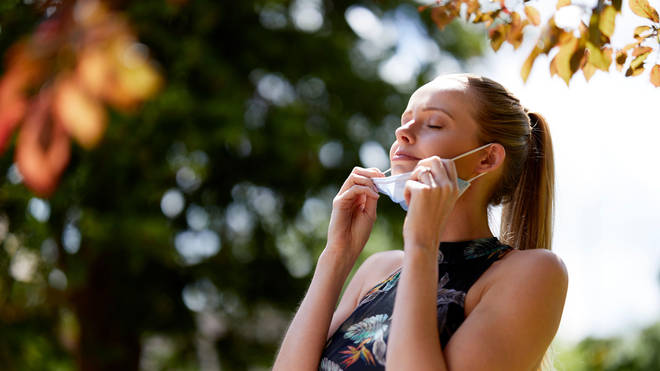 As England lifts lockdown restrictions on 19 July 2021, we take a look at what you can and can't do on what has been dubbed 'Freedom Day'.
After the government delayed the easing of lockdown restrictions in England on 21 June, Monday 19 July has since been referred to as 'Freedom Day'.
But what does Freedom Day actually mean? Have COVID-19 restrictions have officially ended and if so, what are the rules now?
Find out everything we know about the easing of lockdown restrictions, including what you can do in bars and clubs, if you need to wear masks, and if you still have to self-isolate.
What is Freedom Day?
Monday 19 July has been dubbed 'Freedom Day' as it is the day restrictions in England are eased.
Do you have to wear face masks in shops?
It is no longer compulsory to wear face masks in shops, bars or restaurants. However, people are being asked to "exercise their personal responsibility".
However, the TFL are maintaining their policy on masks for the foreseeable future. They wrote in a statement: "The requirement to wear a face covering on the Transport for London network will remain compulsory when the Government's existing national requirement expires on Monday 19 July. This will provide additional reassurance as more customers return to public transport and as London recovers from the pandemic. Masks are effective in protecting us all from the virus."

They add: "Customers will need to continue to wear a face covering in stations and for the duration of their journey unless they are exempt. Customers may be refused entry or asked to leave our stations and services if they are not wearing a face covering and are not exempt."
What happens in bars, clubs and restaurants?
From Monday 19 July, clubs will be open with no social distancing in place. Bars and restaurants will no longer have any social distancing and ordering from tables or with QR codes will be optional.
However, in a press conference Boris Johnson added that full vaccination will be needed to enter nightclubs from September.
The Prime Minister said: "I don't want to have to close nightclubs again as they have elsewhere. But it does mean nightclubs need to do the socially responsible thing.
"As we said last week, we do reserve the right to mandate certification at any point if it's necessary to reduce transmission.
"And I should serve notice now that by the end of September, when all over 18s have had their chance to be double jabbed we're planning to make full vaccination the condition of entry to nightclubs and other venues where large crowds gather."
What are the rules on festivals?
According to the new rules, festivals can now take place at full capacity. However, it's likely that most festivals will require their customers to present their NHS COVID Pass, which will prove if they have had a double vaccine, have received a negative PCR or lateral test up to 48 hours of attending the event, or have natural immunity natural with a positive PCR test 180 days before the event.
READ MORE: Which festivals are going ahead in 2021?
What about at home?
The rule of six for meeting indoors has been lifted.
Do you have to keep the one metre rule?
A one metre distance no longer has to be maintained between people. However in some establishments such as post offices and banks, government buildings and airports, it will still be maintained.
Do you still have to self-isolate?
Self-isolation rules will still remain in place after 19 July and if you have COVID-19 you must self isolate. If you have been in contact with someone who has the virus or close to the virus, you must also self-isolate.
However, from Monday 16 August Heath Secretary Sajid Javid has said that fully-vaccinated adults and anybody under 18 will be exempt from self-isolating unless they test positive for COVID-19.
Are school bubbles over?
School bubbles, which sees groups of teachers and students isolating if one person contracts covid, will end on 19 July. From now on, children will only have to self-isolate if they test positive for the virus or if they have been instructed by the NHS app.
Can I still work from home?
It is no longer necessary to observe the guidance on working from home. However many offices will be putting smart working in place if possible.
What about the NHS test and trace app?
Users of the NHS app must self isolate if told to. However the app itself is not mandatory to instal.