This is what Glastonbury organisers DON'T want to see on Monday morning
27 June 2022, 11:32 | Updated: 5 July 2022, 10:31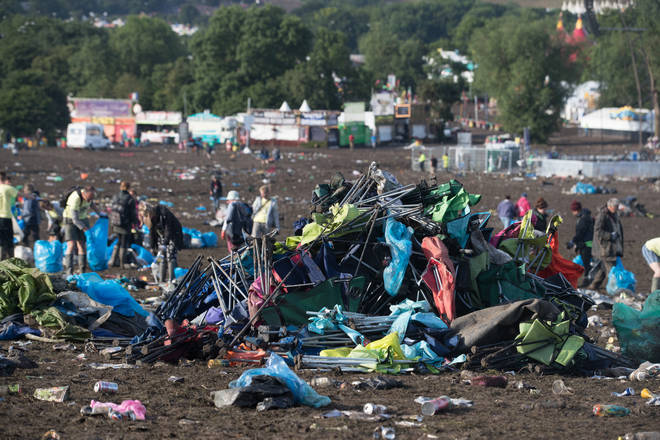 When thousands of people go home after a festival, the site is often left covered in rubbish and debris. This is what Glastonbury has looked like in previous years...
Glastonbury 2022 has delivered five full days of merriment and three huge headliners: Billie Eilish, Sir Paul McCartney and Kendrick Lamar.
And once the 200,000-plus festival goers leave the site on Monday morning, this is what organisers DON'T want to see left behind.
To make the festival sustainable, organisers have asked festival-goers to sign the "Green Pledge" as part of the terms and conditions on buying their ticket.
The Glastonbury "Green Pledge" is: Reuse. Reduce. Respect.
I will take all my belongings home with me, including my tent and camping equipment
I will use the bins provided and not throw my rubbish on the ground
I will bag up all my rubbish using the bin bags provided and use the recycling pens
I will used the toilets provided and not pee on the land
I will try to use a reusable water bottle and avoid single-use packaging
To demonstrate what they mean, this is what the Worthy Farm site looked like on Monday morning after the festival across several years in the past decade. Let's make sure this doesn't happen in 2022.
Festival-goers leave the site on Monday morning as the clean-up begins

Glastonbury Festival 2011. Picture: Matt Cardy/Getty Images

Rubbish is stacked on top of Glastonbury's famous painted bins

Glastonbury 2019.

Picture: PA Images / Alamy Stock Photo

Abandoned camping equipment in 2014

Tents, equipment and debris litter the camping fields on the morning after the Glastonbury Festival, 2014. Picture: LEON NEAL/AFP via Getty Images

Bottles and bags lie discarded in front of the Pyramid Stage

Clear-Up Begins After The Glastonbury Festival, 2016. Picture: Matt Cardy/Getty Images

Clean up begins in front of Glastonbury's main stage

Litter pickers clear the rubbish left in front of the main Pyramid Stage, 2014. Picture: Matt Cardy/Getty Images

Just some of the rubbish left on site at Worthy Farm

A festival goer walks next to litter bins as the clear up begins at the Glastonbury Festival site, 2017. Picture: Matt Cardy/Getty Images

Overflowing bins at Glastonbury 2017

Rubbish is piled high in litter bins as the clear up begins at the Glastonbury Festival site in 2017. Picture: Matt Cardy/Getty Images

A huge team continue with the clean-up effort at Worthy Farm

Litter pickers begin the job of clearing the fields at the Glastonbury Festival site, 2017. Picture: Matt Cardy/Getty Images

There's still a fair way to go...

A reveller picks her way through discarded litter as she leaves the Glastonbury Festival in 2015. Picture: OLI SCARFF/AFP via Getty Images