Glastonbury 2022: latest rumours and secret set announcements
23 June 2022, 12:42 | Updated: 26 June 2022, 15:50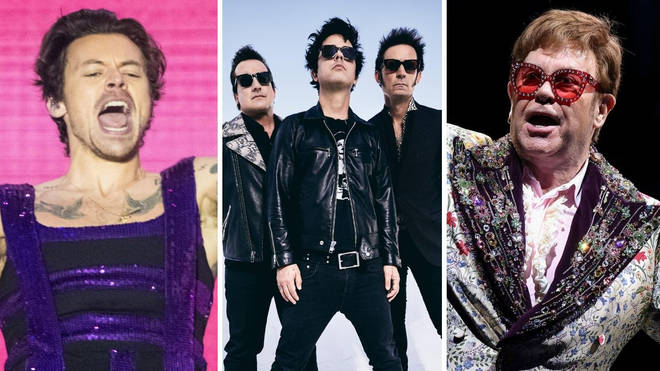 Here are some rumours that are currently swirling around about surprise sets at this year's Glastonbury...
So far, Bastille and Metronomy have performed surprise sets on Friday at Glastonbury.
Please note: all performances are rumours only at time of writing - artists marked "CONFIRMED" have been officially added to the bill.
CONFIRMED: George Ezra

Signs have been spotted at Worthy Farm saying "Gold Rush Kid, John Peel Stage, 2pm". That's the name of young George's new album, released earlier this month, and he's confirmed the slot himself this morning.

CONFIRMED: Jack White

The White Stripes man will play a special set at The Park at 6pm on Sunday.

Arcade Fire

A murky WhatsApp screenshot shared by the band Sports Team says that Arcade Fire will be performing at the John Peel stage at some point - and there's an empty slot there on Sunday at 2pm. The same rumour also claims US rapper Anderson Paak will play the West Holts at some point.

Green Day

Remarkably the punk pop trio have never played Glastonbury, although there was a hot rumour going round in 2010 that they'd make an unbilled appearance. The band's Hella Mega Tour is stopping off in London on Friday 24th June, then heading to Huddersfield on Saturday 25th... before picking up again in Dublin on Monday 27th. Why, that leaves all of Sunday free to lounge around in the British Isles!

Green Day.

Picture: Pamela Littky/Press

Harry Styles

Very much the man of the moment in the pop world, the former One Direction star is currently on tour and played Wembley Stadium last weekend. This means he's match fit and his next tour date isn't until Sunday night in Hamburg, so he's got time to make a surprise appearance somewhere at Glastonbury.

Harry Styles in May 2021.

Picture: ZUMA Press, Inc. / Alamy Stock Photo

Elton John

The legend is playing Hyde Park on Friday and Bristol on Sunday, and which major event is taking place between those two locations over the weekend? Sir Elton has never played Glastonbury, so as this is his farewell tour, it's his last chance. He could even turn up at Diana Ross's Sunday legends slot, Worthy Farm is only down the road.

Elton John performing live in January 2022.

Picture: REUTERS / Alamy Stock Photo

Florence + The Machine

Having just released her new album Dance Fever, Flo is currently playing some summer shows. Her next scheduled date is in Werchter, Belgium on Saturday 25th June, then she picks up the tour on 7th July. That means she's in Europe on Friday AND Sunday.

Florence Welch performing in Berlin in June 2022.

Picture: Britta Pedersen/dpa/Alamy Live News

Johnny Depp

The film star has had a controversial few months, what with that libel trial and everything, but he's also been rocking up to a few shows with guitar legend Jeff Beck to show off his musical chops. Depp is no stranger to Worthy Farm - he appeared at Cinearmageddon in 2017 to plug his film The Libertine.

Johnny Depp's last trip to Glastonbury in 2017.

Picture: UPI / Alamy Stock Photo