The best songs under 2 minutes
30 April 2022, 12:00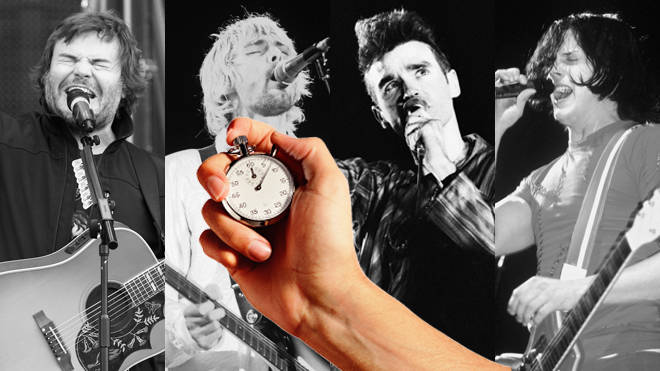 Sometimes short is sweet: here are some of the best songs that clock in under 2 minutes.
In a hurry? Got a bus to catch? Or does your attention drift if bands go on a bit too long? Then don't worry, Radio X has a list of some of the shortest songs around.
Radiohead - I Will (1.59)

Nestled between There There and A Punch-Up At A Wedding, this curious interlude is apparently the angriest song Thom Yorke has ever written, concerning a family being bombed in their own home.

The Clash - White Riot (1.58)

A record so quick, it sets off an alarm at the end. This was the London punk pioneers' first single, from March 1977.

David Bowie - Breaking Glass (1.51)

The second track on Bowie's ground-breaking album Low creates a whole sonic world of weirdness in under two minutes: "Don't look at the carpet - I drew something awful on it."

The Smiths – Please Please Please Let Me Get What I Want (1.50)

Morrissey and Johnny Marr managed to squeeze as many chords as is humanly possible - plus a wry lyric and a mandolin solo - into less than two minutes, just like the Beatles used to do.

The White Stripes – Fell In Love With A Girl (1.50)

It's done and dusted quicker than putting together a Lego figure. Although Joss Stone dragged the song out considerably when she covered it, the original lasts well within the two minute barrier.

Buzzcocks - Love You More (1.47)

This was one of the Manchester band's earliest singles, released in the summer of 1978. It charted at Number 34.

Tenacious D - Dio (1.44)

This tribute to rock legend Ronnie James Dio says all it needs to say in 104 seconds.

The Beatles - Why Don't We Do It In The Road (1.41)

The infamous "White Album" is full of thumbnail sketches that were written while the Beatles were meditating in India in the Spring of 1968 and this Paul McCartney ditty was inspired by the musician spotting some monkeys going at it outside his chalet. The song after it on the double album, I Will, is just six seconds longer.

The Vaccines – Norgaard (1.39)

If you're going to pen a short track, you should seek advice from The Vaccines. This band doesn't mess around.

The Vines – Highly Evolved (1.35)

"A lot can happen in 90 seconds" says the video. They were right: the Aussie band put themselves on the map in 2002 with this stormer.

Nirvana - Tourette's (1.32)

A ferocious track from the band's third and final album, In Utero. It was first played live during Nirvana's legendary 1992 headline set at Reading Festival.

Liam Lynch – United States Of Whatever (1.26)

It may have been his only hit, but Liam Lynch made quite the impact with hit 2002 track United States Of Whatever. It's silly, fast, and unshakeably catchy.

Ramones - Now I Wanna Sniff Some Glue (1.34)

You can take your pick of Ramones songs as the New York punks were always travelling at the speed of light, This raucous track from their influential self-titled debut album clicks in at a mere 94 seconds and four lines of lyrics - which the band insisted were purely fictional.

Elastica - Vaseline (1.21)

Extremely swift tune from the Britpop band's 1995 debut album, which is full of short songs - 15 of them, delivered in a smidge under 40 minutes.

Pixies - Allison (1.17)

The Boston band loved a short, sharp shock, but this is one of their more melodic quickies - it's a surf-styled ballad from their 1990 album Bossanova.

Queen - Lazing On A Sunday Afternoon (1.08)

This 1920s pastiche was written by Freddie Mercury for the album A Night At The Opera, where it forms a bridge between the snark of Death On Two Legs and Roger Taylor's triumphant I'm In Love With My Car.