Radio X's Instant Haçienda Rave In Five Songs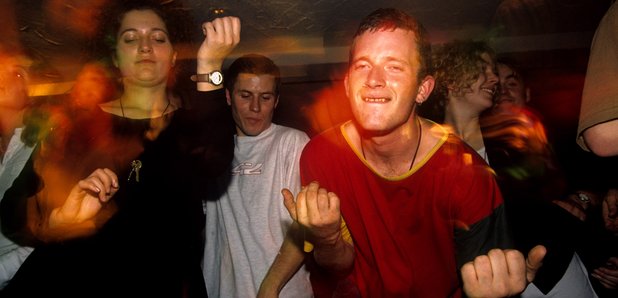 Fancy a quick diversion in your lunch hour? How about an authentic Madchester-style rave, right here, right now? Rave on!
808 State - Pacific State
Martin Price was the owner of Manchester's premier dance record shop Eastern Bloc and he joined forces with customers Graham Massey and Gerald Simpson to form 808 State (named after the Roland drum machine used by all good house acts). This blissful slab of Manc-house hit the charts at the end of 1989, but here's the original version from the previous year's Quadrastate album, for that authentic Haç feeling.
A Guy Called Gerald - Voodoo Ray
Following his brief stint in 808 State, Gerald Simpson but went solo for this early acid house classic, released on the Liverpool label Rham! It was the biggest selling indie release in 1988.


Happy Mondays - Hallelujah (Club Mix)

The indie-dance crossover was made official in November of 1989 with the release of Happy Mondays' Madchester Rave On EP and The Stone Roses' Fool's Gold. One of the Mondays' tracks was remixed by Andy Weatherall and Paul Oakenfold - the loping beat and the sample of medieval plainsong made it one of the key tracks of the era.


Primal Scream - Come Together (Weatherall Mix)
Another band that were early adopters of the dance remix, Loaded was previously a track of theirs called I'm Losing More Than I'll Ever Had. Given an overhaul by DJ and remixer Andy Weatherall, the results put the Scream into the charts and he ended up working on their next album Screamadelica. We love his take on the track Come Together, a suitably spaced-out epic.





New Order - Fine Time (Silk Mix)
The indie rock overlords had been toying with dance music since the early 1980s after doing some serious clubbing in New York's hip hop clubs. At the other end of the decade, they decided to record their fifth album in Ibiza. There were many distractions as you may imagine, but the result was one of their strongest LPs - Technique. The opening track was tailor-made for the Haçienda and given a soulful remix by Steve "Silk" Hurley, one of the leading lights of the Chicago house scene.