The best One Album artists of all time
29 May 2022, 12:00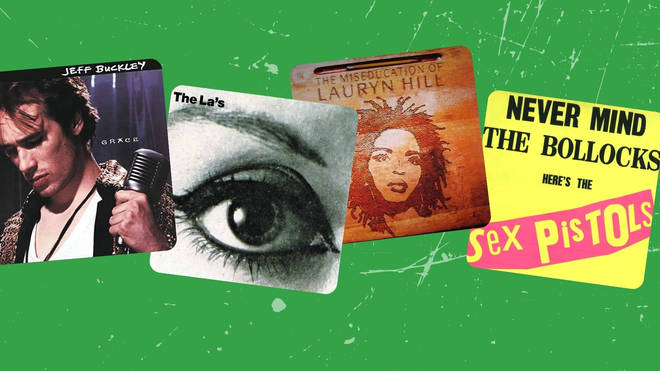 Radio X takes a look at the acts that only released that one, memorable LP.
Jeff Buckley - Grace (1994)

The singer's one and only studio album was released in his native America on 23 August 1994 and he spent the majority of the following two years touring the record. He'd started work on his second album, tentatively titled My Sweetheart The Drunk, when he accidentally drowned while swimming in Wolf River Harbor, in the Mississippi River on 29 May 1997.

The La's - The La's (1990)

This Liverpool guitar band were originally formed by Mike Badger in 1983, but five years later the core team of Lee Mavers and John Power had released the classic single There She Goes. Mavers then spent the best part of two years recording a debut album with different producers including Mike Hedges, John Leckie and Steve Lillywhite. The LP finally arrived in October 1990, but Mavers STILL wasn't happy with it and despite reforming the band in 2005, he has yet to record a follow-up.

Lauryn Hill - The Miseducation Of Lauryn Hill

A member of the rap collective The Fugees, in 1998 Hill released her first and (to date) only album, The Miseducation Of Lauryn Hill in August 1998. Despite being hugely successful around the world and forging a path for other female rappers, the pressure of fame affected Hill and she fell out of the public gaze not long after recording an MTV Unplugged show in the summer of 2001. Since then, she's released the odd single and played a number of live dates, but a second solo album has yet to be seen.

Sex Pistols - Never Mind The Bollocks (1977)

Britain's punk figureheads were never meant to last long - their first single, Anarchy In The UK, was issued in November 1976, their only album a year later and by January 1978 frontman John Lydon had quit the group in disgust and it was all over bar the shouting. But what a great album: Anarchy, God Save The Queen, Pretty Vacant, Holidays In The Sun and some scorching LP tracks. Subsequent Pistols "albums" are compilations of tracks of various vintage, but this remains a classic.

The Seahorses - Do It Yourself (1997)

After John Squire quit The Stone Roses in April 1996, he returned with this short-lived band that featured Chris Helme on vocals. Their debut album featured such bangers as Love Is The Law and Blinded By The Sun and was produced by Bowie collaborator Tony Visconti. The band toured relentlessly, supporting Oasis, U2 and The Rolling Stones, but the usual "musical differences" came between Squire and Helme and the band folded before a follow-up LP was even started.

Mother Love Bone - Apple (1990)

This early Seattle grunge band featured Jeff Ament, Bruce Fairweather and Stone Gossard from the highly-regarded local act Green River. However, days before their debut album Apple was due to be released, frontman Andrew Wood overdosed on heroin and died shortly afterwards, thus ending Mother Love Bone's short career. Ament and Gossard would later work with Chris Cornell on Temple Of The Dog, before going on to form Pearl Jam.

Them Crooked Vultures - Them Crooked Vultures (2009)

A supergroup featuring Dave Grohl, Josh Homme and Led Zeppelin man John Paul Jones was obviously going to be brilliant - but the three participants' busy diaries meant that a follow-up album has not been forthcoming.

The New Radicals - Maybe You've Been Brainwashed Too

Frontman Gregg Alexander had released two solo albums before he found gold under this bandname, most famous for the single You Get What You Give in 1998. After the album was released, the band fizzled out before the release of their follow-up single, Someday We'll Know. Since then, Alexander has focused on songwriting, penning hits by Geri Halliwell, Sophie Ellis-Bextor, Ronan Keating, Hanson and Rod Stewart, picking up a Grammy Award for The Game Of Love by Santana and Michelle Branch in 2002.

The Postal Service - Give Up (2003)

This Seattle indie band won hearts with their songs Such Great Heights and The District Sleeps Alone Tonight, but the group seemed to go on hiatus a couple of years later. Despite playing an extensive world tour in 2013, the hopes of a follow-up album were dashed when they announced their split after an appearance at that year's Lollapalooza festival.

Young Marble Giants - Colossal Youth (1980)

Rough Trade (who later signed The Smiths) issued the one and only album by this Cardiff trio, whose minimalist style can be heard in modern bands like The xx. Kurt Cobain and Courtney Love were fans, too. They split not long after the release of the LP, but reunited in the 21st Century for sporadic reunion shows, including a performance of Colossal Youth in full at 2009's All Tomorrow's Parties festival. They've packed it in again, though, so don't expect a sequel.

Minor Threat - Out Of Step (1983)

The hugely influential US hardcore punk act led by Ian MacKaye had issued a stack of tracks and EPs before they issued their only full-length set. We say "full-length", because it only lasts a brief 21 minutes. That's hardcore! Despite founding the "straight edge" movement, the band split up shortly afterwards and MacKaye formed Fugazi.