The best bands and artists from Canada
1 July 2022, 06:00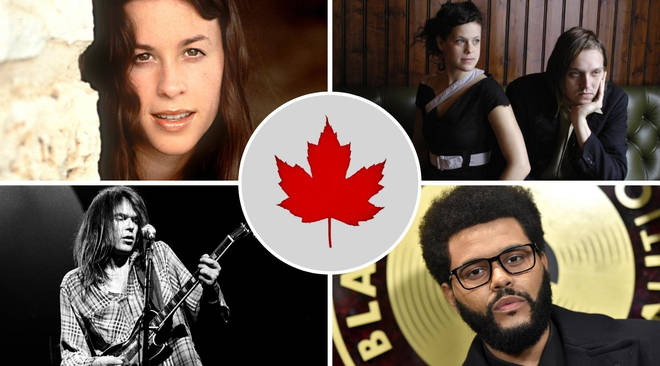 From Neil Young to Alanis Morissette, The Weeknd to Bryan Adams, let's take a look at some of the greatest ever acts to come out of the country for Canada Day, eh?
Arcade Fire

Win Butler and his brother Will were born in Texas, but when Win moved to Montreal in 2000, he met his wife Régine Chassagne, a Quebec native and Arcade Fire were founded.

Neil Young

One of the most important folk and rock singers of all time, Neil Young was raised in the province of Ontario. He keeps on Rockin' In The Free World.

Bran Van 3000

Yep. We didn't realize they were Canadian either. But the LA drinkers are actually from Montreal.

Sum 41

Although the epitome of the American pop-punk sound of the noughties, Sum 41 actually formed in Ajax, Ontario.

The Weeknd

Abel Makkonen Tesfaye, better known by his stage name The Weeknd, was born in Toronto in 1990. He's since gone on to sell over 75 million records, with tracks like Can't Feel My Face, Earned It and Blinding Lights.

Alanis Morissette

Born in Ottawa, Morissette had a huge hit in 1995 with her album Jagged Little Pill, which spawned the singles Ironic and You Oughtta Know.

Avril Lavigne

Born in Belleville, Ontario in 1984, Lavigne is still best known for her pop punk classic Sk8r Boi, but her 2002 debut album Let Go remains the best selling album by a Canadian artist in the 21st Century.

Rush

Producers of one of the greatest songs of all time - Spirit Of Radio, natch - Rush are classic rock titans who formed in Willowdale, Toronto,

Drake

One of the biggest selling artists in the world is Canadian rapper Drake, born Aubrey Graham in Toronto in October 1986. His track Hotline Bling alone has gone double platinum in the UK.

Bryan Adams

A native of Kingston, Ontario, Adams became an international star in 1984 with his hit Summer Of '69, but it was the theme song to Robin Hood: Prince Of Thieves that broke the records. (Everything I Do) I Do It For You spent a ridiculous 16 weeks at Number 1 in the UK in 1991.

Joni Mitchell

Born in Alberta in 1943, Joni Mitchell is one of the world's most beloved singer-songwriters, having crafted a unique career since the 1960s with albums like Ladies Of The Canyon, Blue and Court And Spark.

Metric

Metric have lived in London, New York, LA and more places throughout their career, but it all started in Toronto in the late nineties.

Feist

Known to her friends as Leslie Feist, this singer from Calgary became world famous when her song 1234 was used in an advert for the Apple iPad.

Michael Bublé

The smooth sounds of Burnaby, BC native Bublé have netted him over 40 million record sales worldwide. His 2011 Christmas album alone has sold over 12 million copies around the world!

Death From Above (1979)

Sebastien Grainger and Jesse F. Keeler are originally from Toronto and were the original drum and bass noise trio.

Hot Hot Heat

Forming just before the turn of the century, Hot Hot Heat are from Victoria, British Columbia. Go, BC!

MSTRKRFT

Jesse F Keeler from DFA 1979 and Alex Puodziukas of Girlsareshort formed this production/electronica duo that created monster remixes of a number of big tunes. Powered by Jesse's bass, check out this version of Block Party's Two More Years.

Barenaked Ladies

Hailing from Scarborough, Ontario, this band had a huge international hit in 1998 with One Week.

Celine Dion

Céline Marie Claudette Dion was born in Charlemagne, Quebec in 1968 and is the best-selling Canadian recording artist of all time, thanks in part to the Titanic theme, My Heart Will Go On, which has sold over 18 million copies alone.

Broken Social Scene

Another massive musical collective, this time from Toronto, which has counted Feist and James Shaw and Emily Haines of Metric among their number.

Shania Twain

Twain is the biggest-selling female artist in country music history with over 100 million record sales around the world. Her biggest hits in the UK include You're Still The One, Man! I Feel Like A Woman and That Don't Impress Me Much.

Leonard Cohen

Writer, poet, novelist and singer Cohen was born in Quebec and his confessional lyrics, coupled with a distinctive, mournful voice influenced generations. Hallelujah is still his biggest song. Cohen died in 2016, aged 82.

Justin Bieber

Pop phenomenon Bieber was born in London, Ontario in 1994. He's had seven Number 1 hits in the UK, including What Do You Mean, Sorry, Love Yourself and I Don't Care with Ed Sheeran.