Who are the greatest ever supergroups?
29 January 2021, 17:00 | Updated: 4 February 2022, 09:31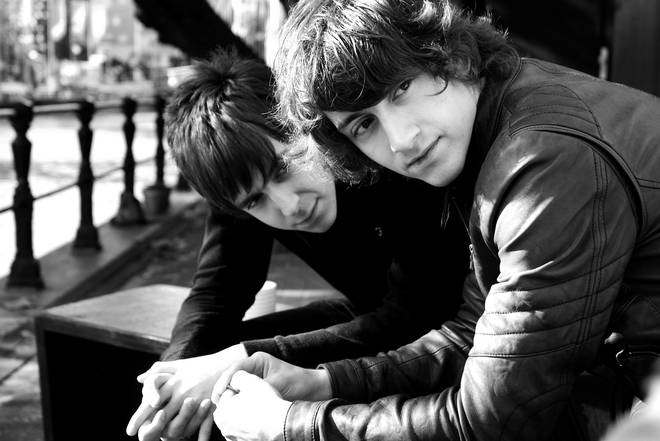 What is it about the supergroup? Is it just some celebrity mates messing about, or can some real magic be found when superstars get together?
The Last Shadow Puppets

Alex Turner: the wit and inspiration behind Arctic Monkeys; Miles Kane: former member of The Rascals, who forged a solo career; James Ford: Simian Mobile Disco producer. The result: two elaborate, baroque, theatrical indie rock albums: The Age Of The Understatement (2008) and Everything You've Come To Expect (2016).

Dr. Pepper's Jaded Hearts Club Band

Muse's Matt Bellamy, Miles Kane, Chris Cester from Aussie rockers Jet, Ilan Rubin from Nine Inch Nails and Sean Payne of The Zutons put together this Beatles cover band for guitarist and actor Jamie Davis's birthday… and soon found themselves supporting The Who and playing host to Paul McCartney himself. Here's Miles Kane telling Gordon Smart how it all got started.

Them Crooked Vultures

Do you like to ROCK? Then you will have loved Them Crooked Vultures, who consisted of Big Dave Grohl, his Queens Of The Stone Age pal Josh Homme and legendary Led Zeppelin bassist, arranger and producer John Paul Jones, who cooked up some ridiculously loud riffing for a series of shows and one self-titled album in 2009.

Atoms For Peace

Thom Yorke of Radiohead and the endearingly eccentric Flea from Red Hot Chili Peppers - together at last! This pair joined forces with 'Head producer Nigel Godrich, some time R.E.M. drummer Joey Waronker and David Byrne sideman Mauro Refosco. They released one album, Amok, in 2013.

The Good The Bad And The Queen

A cheeky bit of wish fulfilment for Damon Albarn, as the Blur man joined a band with Clash hero Paul Simonon for an eponymous album in 2007. Also along for the ride were Verve guitarist Simon Tong, drummer Tony Allen and ace producer Danger Mouse. And some nice hats.

The Plastic Ono Band

Looking for an outlet for his wackier compositions while still in The Beatles, John Lennon created this ever-evolving group of friends and musicians, plus his new wife, artist Yoko Ono. Turning up at some point for either live shows, or recording were Beatle pals George Harrison and Ringo Starr (had they fallen out with Paul or something?), Eric Clapton, drummer Alan White (not the Oasis one), The Who's Keith Moon and old pal, artist and bassist Klaus Voorman (who also did the cover for Revolver). What a racket.

Temple Of The Dog

The Grunge Supergroup! Following the collapse of Mother Love Bone after the death of frontman Andrew Wood, Seattle's leading lights got together to pay tribute to their former colleague. Involved were Chris Cornell and Matt Cameron of Soundgarden and Stone Gossard, Jeff Ament and Mike McCready of Pearl Jam. They released one, self-titled album in 1991 and regrouped 25 years later to perform it again.

The Traveling Wilburys

George Harrison and ELO man Jeff Lynne had such a good time making the Beatle's Cloud Nine album in 1987 that they decided to make their own group. Inevitably, mates were called, including Bob Dylan, Tom Petty and the legendary Roy Orbison. Apparently they all got on because they all loved Monty Python. Shortly after the release of their debut album in 1988, Orbison died, leaving the Wilburys a foursome for the follow-up in 1990.

Electronic

After the split of The Smiths and during some downtime with New Order, Mancunian guitar legends Bernard Sumner and Johnny Marr decided to work together on a project with the unexpected title of Electronic. Their first hit, Getting Away With It, featured Pet Shop Boys' Neil Tennant on guest vocals. The duo released three albums, which occasionally featured Karl Bartos of Kraftwerk and Jimi Goodwin of Doves.

The Dead Weather

The bluesy-indie-rock end of the supergroup spectrum, this American band formed in 2009 around Jack White, Alison Mosshart of The Kills, Dean Fertita of Queens of the Stone Age and Jack Lawrence of The Raconteurs. Following the release of Horehound in 2009, the combo released two more albums: Sea Of Cowards (2010) and Dodge And Burn (2015).

The Breeders

Kim Deal of the Pixies joined forces with fellow 4AD artist Tanya Donnelly from Throwing Muses when the two bands toured together. Following a debut album in 1990 titled Pod, Kim's twin sister Kelley joined the band for the more commercially successful Last Splash in 1993. In 2018, the line-up that recorded Last Splash reconvened for a new album, All Nerve.