Richard Ashcroft: People who claim to be in guitar bands are "pale imitations"
28 November 2018, 17:25 | Updated: 29 November 2018, 10:08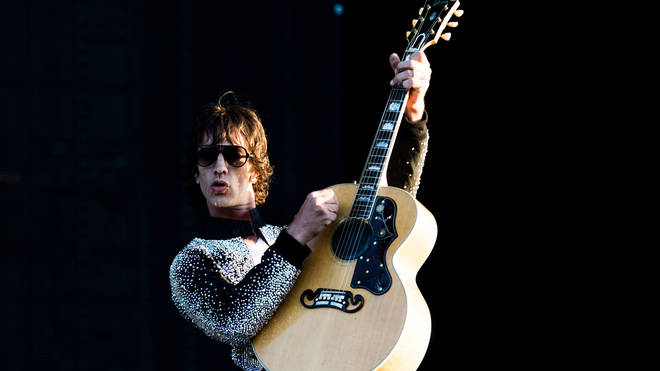 The former Verve frontman has talked about the nature of rock music and accused bands of dropping the baton in a new interview.
Richard Ashcroft has hit out at bands who consider themselves to be rock, calling them "fantastically boring".
The Verve legend was recently interviewed on Consequence Of Sound's Kyle Meredith With... podcast, where he spoke about his Natural Rebel album and that famous Bitter Sweet lawsuit.
Referring to his Money Money track, which also hits out at record company bosses, he said: "This is what that songs about. It's a direct message, not only to the people who claim to be in guitar bands or anything affiliated with rock or whatever.
"You're fucking fantastically boring. You are pale imitations. You don't even deserve to be given that mantel."
Not naming any bands in particular, the Surprised by the Joy singer added: "They've dropped the baton. They all became bad Euro dance rock bands and stuff. Whichever way the wind blows they blow, you know?"
"So they're all fakes and they've earned lots of money and good luck to them, he mused. "But they aint me they're not fucking the real deal. They're not fucking Liam (Gallagher), they're not Johnny Cash, they're not The Stone Roses, they're not The Clash, they're not the (Sex) Pistols, they're not nothing, they're no ones."
The rocker concluded."They're not saying anything particularly interesting because that's what you need to be now in the modern age. You need to be a blank canvas. Every person and individual can then project what they like onto your blank, dumb, face."
Watch Richard Ashcroft talk about supporting huge artists:
Ashcroft also had a message for ABKCO records, who were the force behind the lawsuit against his Bitter Sweet Symphony single, telling them he's "coming for (his) money".
The instrumental backing to The Verve track was sampled from a symphonic version of The Rolling Stones' The Last Time, which was recorded in 1965 by the Andrew Oldham Orchestra and arranged by David Whitaker.
In the end, the band had to forfeit publishing rights to ABKCO Records, with Jagger and Richards added to the songwriting credits and Ashcroft losing composer credits.Watch him play the 1997 track above at London's Finsbury Park.
READ MORE: Which song did The Verve's Bitter Sweet Symphony sample?
Ashcroft has previously talked about his ambivalent feelings towards the track, but in a new interview he's hit out at the head of ABKO Jody Klein, son of the late Allen Klein who originally brought the suit to the band.
"Fucking Mr. Junior now has taken over that company. I'm coming for that money," Ashcroft said in the Kyle Meredith With... podcast.
"Someone stole god knows how many million dollars off me in 1997, and they've still got it. In terms, in normal basic terms, I don't care where you come from, that's serious matter. So I'm telling him, I'm telling Allen Klein Jr., I'm coming for my money, man."
Hinting at the fact he may have been intimidated into accepting the conditions of his lawsuit, the Surprised by the Joy singer mused: "You know, when his dad was around, people could intimidate people by being a gangster in the music industry".
Watch Richard Ashcroft sing Bitter Sweet Symphony at London's Finsbury Park: