Richard Ashcroft: "Is Glastonbury Bigger Than The Acts Now?"
25 October 2018, 16:33 | Updated: 25 October 2018, 16:53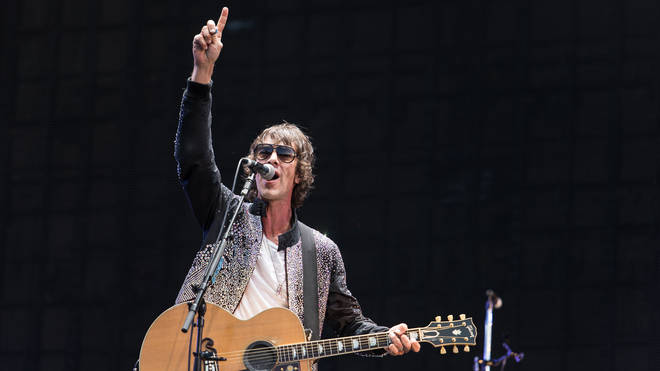 The Verve legend has mused if the Somerset festival's line-up schedule has taken away from the power of music.
Richard Ashcroft has given his thoughts on Glastonbury Festival.
The Former Verve frontman, who's Natural Rebel album is out now, appeared on BBC Breakfast where he was shown an image from Glastonbury 2008 in which they headlined.
Asked by presenter Charlie Stayt if it's a time he looks back on fondly, the Surprised By The Joy singer replied: "I think so. You know Glastonbury's an interesting one for me, because the myth and the name have grown to such a proportion that they sell out before they've even told the world who the acts are.
"And I actually think that's taking away from the power of the music in a sense, because I like to know who the acts are before I buy a ticket".
He added: "But now, Glastonbury's grown... Is Glastonbury bigger than the acts now?"
Watch Richard Ashcroft perform The Drugs Don't Work at Liam Gallagher's Finsbury Park gig:
Meanwhile, Ashcroft recently responded to a responded to a heartbreaking story from a fan who credits The Verve legend's music for saving his life.
An Instagram post from a fan under the name of dobsw70 was shared which described how the death of his father and estrangement from his partner and children led him to contemplate suicide in 2001.
He revealed: "... I got in my car and headed for the motorway as there was a bridge i thought i could end it all by crashing in to it, as i picked up speed @richardashcroftofficial #onabeach came on the radio, being a fan my mind was taken away by the song and thankfully past the bridge..."
Picking up on the story, Ashcroft shared the emotional post last week and wrote: "Miracles happen everyday brave man speaking up !peace to all of us suffering or with family suffering it can get so bleak but something that spark nature tune , cup of tea sunrise we can turn the corner".

Watch Richard Ashcroft talking about supporting huge artists: