Richard Ashcroft on Bitter Sweet Symphony lawsuit: "I'm coming for my money"
28 November 2018, 05:00 | Updated: 28 November 2018, 16:32
The former Verve frontman has spoken out again about the legal battle involving one of their most famous tracks.
Richard Ashcroft has spoken out about the royalties he's lost on Bitter Sweet Symphony, claiming he wants his money back.
The instrumental backing to The Verve track was sampled from a symphonic version of The Rolling Stones' The Last Time, which was recorded in 1965 by the Andrew Oldham Orchestra and arranged by David Whitaker.
In the end, the band had to forfeit publishing rights to ABKCO Records, with Jagger and Richards added to the songwriting credits and Ashcroft losing composer credits.
Watch him play the 1997 track above at London's Finsbury Park.
READ MORE: Which song did The Verve's Bitter Sweet Symphony sample?
Ashcroft has previously talked about his ambivalent feelings towards the track, but in a new interview he's hit out at the head of ABKO Jody Klein, son of the late Allen Klein who originally brought the suit to the band.
"Fucking Mr. Junior now has taken over that company. I'm coming for that money," Ashcroft said in the Kyle Meredith With... podcast.
"Someone stole god knows how many million dollars off me in 1997, and they've still got it. In terms, in normal basic terms, I don't care where you come from, that's serious matter. So I'm telling him, I'm telling Allen Klein Jr., I'm coming for my money, man."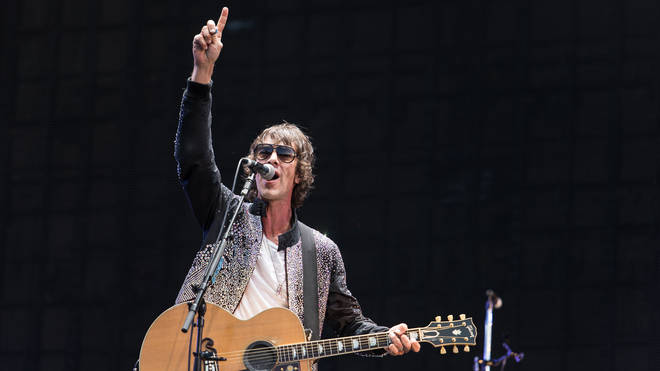 Hinting at the fact he may have been intimidated into accepting the conditions of his lawsuit, the Surprised by the Joy singer mused: ""You know, when his dad was around, people could intimidate people by being a gangster in the music industry".
Ashcroft, who revealed his Natural Rebel track Money Money was written about the actions of ABKO and its contemporaries, added: "Basically, I was looking at certain situation that happened a few weeks ago, and now I'm like, 'Okay, I get it. I understand what's necessary now,' I realised, I filtered it down what happened back in '97, filtered it down to its raw essence – a gangster stole 50% of something that's worth at least a hundred million dollars already. So, you know, I'm never going to forget that."
Despite this, Ashcroft previously revealed he had no bad feelings towards The Rolling Stones, adding that supporting them in Manchester was an honour.
Speaking on Soccer AM back in September, he said: "The Rolling Stones will live forever. It was an honour for me to play with them no matter what went on with Bitter Sweet".
Speaking of the suit, however, Ashcroft also told the Soccer AM studio: "ABKCO music out there I'm coming for you.
"What's his name? Allen Klein junior, I know you live in New York. I'm going to disturb one of your yoga sessions and ask for that 15 million back you owe me."
He concluded: "But apart from that, no sweat with The Stones."

Watch Richard Ashcroft sing They Don't Own Me live in the Radio X studio: