VIDEO: Muse reveal their first impressions of each other
14 November 2018, 21:05
The Simulation Theory trio took a trip down memory lane with Radio X's John Kennedy and recalled how they met.
Muse have recalled what they thought of each other when they first met.
To celebrate the release of their eighth studio album, Simulation Theory - which is out now - the trio took part in a An Evening In Conversation with Radio X's John Kennedy, which helped raise funds for Global's Make Some Noise charity.
The trio formed in Teignmouth, Devon in 1994, but were asked to remember what they first thought of each other all those years ago.
"I think the first time I met Matt was the football court at Winterbourne," said bassist Chris Chris Wolstenholme. "And I can remember thinking he was a terrible footballer."
Frontman Matt Bellamy replied: "Yeah, and I remember him being a great footballer and thinking I want to be on his team."
Watch their full response in their video above.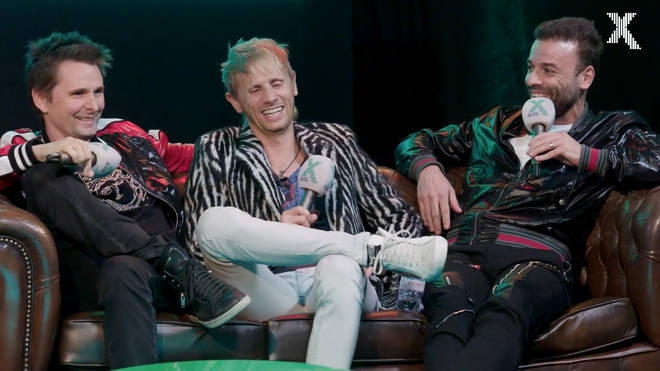 Drummer Dom Howard mused: "I think we were all quite different people, quite different kids in some ways. We had the common interest of music eventually, but Chris was very into sports... I certainly wasn't and [Matt was] kind of in the middle."
Muse have also discussed how it was growing up in Devon, and revealed they always had ambitions to see the world.
Watch our video here:
Asked how they might change the recording of their ninth album, frontman Matt Bellamy said: "I actually quite like the idea of going back to Devon where we're from and doing something there, because we haven't actually made an album where we come from."
"None of us are actually from Devon originally, mused bassist Wolstenholme."I never actually considered myself to be from Devon. I was born in the north, so from 19 being in a band and travelling to loads of different places, I don't really feel like I'm from anywhere."
He added: "I think we probably all had that same feeling when we were in Devon that we weren't really from there, although we probably went through some of the most important years of our childhood there. We always kind of felt a little bit like outsiders a little bit there."
Muse's Thought Contagion album is out now:
Watch the Back To The Future-inspired video for their Pressure single:
Watch Muse talk about the meaning of Muscle Museum and Plug In Baby