VIDEO: Miles Kane Reveals Advice Paul Weller Gave Him
11 August 2018, 14:00 | Updated: 11 August 2018, 14:01
The Cry On My Guitar rocker has talked about spending time with the Modfather, and the wise words he gave.
Miles Kane has recalled an important piece of advice given to him by Paul Weller.
Watch our video above.
Speaking to Radio X's Chris Moyles about spending time with The Jam legend, Kane gushed: "He embraces the youth and he told me about that a few years ago.
"Like if I'd be getting jealous of the new kid or whatever, he'd be like: 'Don't because embrace the youth' and it was a bit of advice that i've taken on."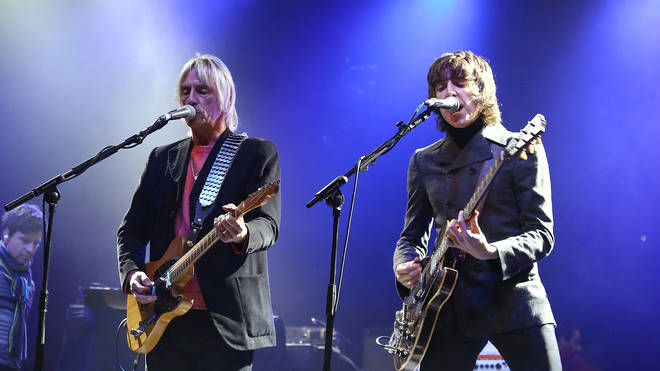 Asked whether he ever felt in awe going up to perform with The Modfather, the Scouse rocker said: "It probably wasn't even being on stage that I felt: 'This is kind of amazing'.
"It was when me and him went for fish and chips before a gig."
Meanwhile, Miles has also talked about working with Jamie T on his new Coup De Grace album, and said it was as "easy as sitting on a sofa".
Watch our video below:
Asked by Chris Moyles how it was working with the Sheila rocker, Kane replied: "Me and J, I've known him for 10 years, so it'll be like when you're sitting chatting about whatever it is...
"But there was no guarantee that it would work. The minute we sat down and picked up the acoustics [guitars] it just happened. And every day we did that. We'd right a tune."
The Inhaler rocker added: "It was as simple as just sitting on the sofa in my little apartment, or in his room in his studio... Each day just working on a tune."
Kane also he gave his opinion on Alex Turner's newly shaved hair.
Miles Kane's Coup De Grace is set for release on Friday 10 August 2018.
Watch the video for his Cry On My Guitar single, which features WWE Wrestler Finn Bálor - the Inspiration for Kane's album title.