See Johnny Marr's Guitar Masterclass With This Smiths Riff
12 November 2016, 08:00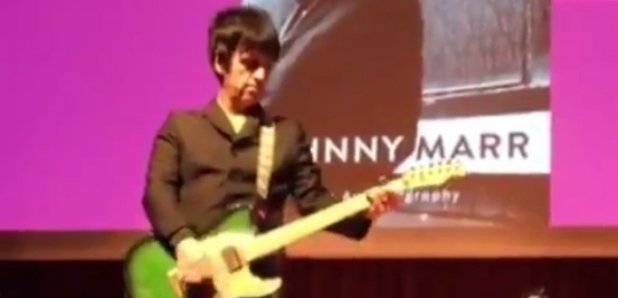 The guitar legend showed an audience how he came up with this classic song from the 1980s.
Speaking in front of an audience in London on Thursday (10 November), Marr explained how he came up with the riff to the classic Smiths track The Headmaster Ritual.
The track, which opened the second Smiths album Meat Is Murder in 1985 was actually built up of two separate riffs that the musician had been toying with for months… until a flash of inspiration led him to create a bridging section that completed the song.
Johnny demonstrated the riff by playing the song solo on a guitar that's not seen public action since the Queen Is Dead tour. He later tweeted the clip and it's just beautiful - watch him play!
Thanks to everyone who came out to RNCM & The Barbican this week. pic.twitter.com/bKXT8uSvWt

— Johnny Marr (@Johnny_Marr) November 11, 2016
Interviewed by journalist Jon Savage as part of a special Guardian live event at the Barbican, Marr related some of the stories covered in his new autobiography, Set The Boy Free.