Tim Booth From James Thinks Morrissey Is A "Bit Of A Dick" Now
4 July 2018, 12:19 | Updated: 4 July 2018, 12:40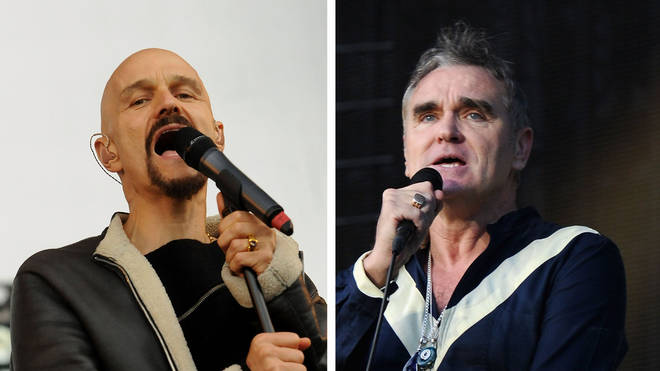 The James frontman has talked about his early friendship with the former Smiths frontman, and suggested he's changed.
Tim Booth has described Morrissey's "kind" personality when their bands were starting out and touring together.
As reported by NME, the James singer has spoken about his early friendship with the The Smiths legend, and remembered him as "sweet" "very shy" and "very frightened" .
He told the Press Association: "I knew Morrissey as a friend when he was sweet, very shy, very frightened. Wanting success, wanting what happened with The Smiths and also terrified of it simultaneously.
The Sit Down singer continued: "I saw about their seventh gig in Manchester and they were fully formed. They were ready, they were lock and loaded. And we weren't.
"They were so kind to us. Morrissey called us the best band in the world, they took us on tour, they tried to take us to America but we actually turned them down. And they were so sweet, all of them, for years.
Booth concluded: "But I know he's become a bit of a dick."
The comments come after Morrissey postponed his UK dates, which included two homecoming dates at Manchester's Castlefield Bowl.
Watch Morrissey perform How Soon Is Now at The Royal Albert Hall earlier this year:
Meanwhile, Johnny Marr has revealed how the split of The Smiths left him "devastated".
Speaking to John Kennedy at the special charity Radio X Presents An Evening Of Conversation With Johnny Marr event earlier this week (14 June), Marr explained that the dissolution of the Manchester band in the autumn of 1987 affected him deeply.
Watch our video clip here:
"I needed to be around a certain kind of person when The Smiths split," he said. "You can imagine, I was 24, I was really, really fucking heartbroken."
The legendary Smiths guitarist added: "I wasn't going BYEEE! Jolly up! It was really devastating for me. Because I was forced into it. That's the simple way of explaining something complicated."