WATCH: Green Day Pay Tribute To Chuck Berry With Johnny B. Goode
21 March 2017, 12:13 | Updated: 21 March 2017, 12:17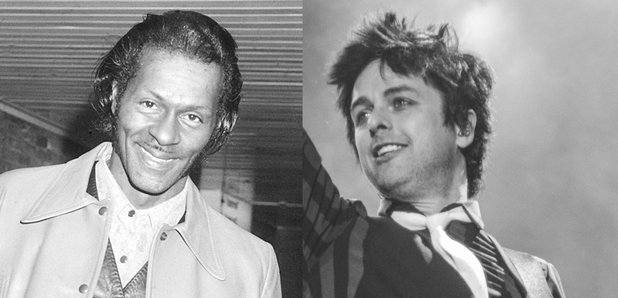 The trio covered one of the late rock 'n' roll pioneers biggest tracks at their gig in Ontario, Canada.
Green Day paid tribute to Chuck Berry at their gig in Canada on Sunday (19 March).
The trio showed their appreciation for the rock'n'roll trailblazer - who died on Saturday 18 March - by performing Johnny B. Goode during their set at Budweiser Gardens in London, Ontario.
Watch them play his famous track in a video uploaded to YouTube by lynnykitty:
Meanwhile it has been revealed that Chuck Berry's final album will be released this year.
The music legend announced on his 90th birthday in October that he was planning to drop his first record since 1979's Rock It but, following his death over the weekend, fans were left wondering whether his 18th LP, Chuck, would ever surface.
However, his family confirmed that the record would be posthomously released, with a statement on his official Facebook page reading: "Since Chuck's passing on Saturday, the Berry family has received many inquiries from friends, fans and media about the status of his forthcoming album CHUCK, which was originally announced on his 90th birthday, October 18, 2016.
"Working to prepare the release of this record in recent months and in fact over the last several years brought Chuck a great sense of joy and satisfaction.
"While our hearts are very heavy at this time, we know that Chuck had no greater wish than to see this album released to the world, and we know of no better way to celebrate and remember his 90 years of life than through his music.
"For months now plans have been in place, and preparations have been made with our friends at Dualtone Records, to reveal further details and music from the album this week. As a tribute to Chuck Berry, and with gratitude to his fans around the world, we will be following through on those plans in the coming days. (sic)"
Although not much is known about the forthcoming album, the Roll Over Beethoven star previously hinted that the release would be his last ever collection of music and dedicated it to his wife of 68 years, Themetta 'Toddy' Suggs.