Green Day Respond To Death Of Acrobat Before Festival Set
9 July 2017, 10:25 | Updated: 9 July 2017, 13:40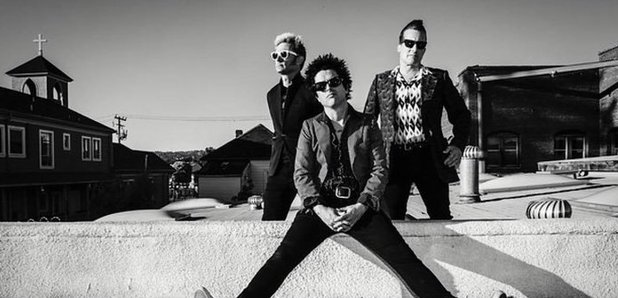 "We are not heartless people" says Billie Joe Armstrong after performer Pedro Aunion Monroy dies in accident.
Green Day have reacted to criticism after they performed a festival set in Spain this weekend… right after an acrobat was killed in an accident before the trio were due to take the stage.

The US band were preparing to headline the Mad Cool Festival in Madrid on Friday, when acrobat Pedro Aunion Monroy was performing in a cage suspended 100 feet over the festival site.

The performance - which came between Alt-J and Green Day's sets - came to a shocking halt when the cage fell. The BBC reports that paramedics spent 30 minutes trying to save Monroy, but were unsuccessful.
El acróbata fallecido en el #Madcool tiene nombre y es humano es: Pedro Aunion Monroy. Los obreros existimos, ¡¡¡ya está bien!!!. pic.twitter.com/LRsdUblHPh

— VeGeTaRiaNo (@39raseC) July 8, 2017

Green Day's performance went ahead as scheduled, but the band faced criticism on Twitter:
@GreenDay ashamed of you. An artist died just 20 meters from you and you still play. Worst band on the planet. #MadCool

— Javier Erquiaga (@jerquiag) July 7, 2017
Horrific scenes tonite, watched a man fall to his death and nothing was said.Shame on u #MadCool and #GreenDay for not even acknowledging it

— lauren deegan (@deegz23) July 8, 2017


However, in a statement, Billie Joe Armstrong said that they were not told of the accident "for security reasons".

He wrote: "Many of you are wondering why we continued to play our show after the accident. Green Day did not hear about the accident until after our show was over. We didn't even know there was an acrobat performance at all.

"15 minutes prior [to our set] our tour management was told by local authorities to wait to go on stage because there was some sort of security issue. Security issues are a normal occurrence and procedure at any show. We were NOT told why which is also normal.

"We were given the ok. This was to be the last show of our European tour and we were all so excited to play our hearts out one last time. We were on stage at around midnight and played around two and a half hours. Everything seemed normal.

"We got off stage and drove back to our artist compound. It was there when we were told the shocking news about Pedro. All of us were in disbelief. I don't know why the authorities chose not to tell us about the accident before our concert.

"This has never happened in the 30 years Green Day have been performing live. If we had known prior to our performance we most likely would not have played at all.

"We are not heartless people. The safety and well being at any of our concerts absolutely comes first. What happened to Pedro is unthinkable. Once again we are heartbroken for his friends and family."


British band Slowdive cancelled their slot at the festival after hearing the news:
Due to the tragic event at Mad Cool this evening we felt it was not appropriate to play. Our thoughts go out to those affected.

— Slowdive (@slowdiveband) July 8, 2017
Alt-J, who were performing just before the accident took place, also tweeted their condolences:
Terrible news that a fellow performer was killed last night at Mad Cool. Our thoughts are with his family and friends.

— Δ (alt-J) (@alt_J) July 8, 2017
In a statement, the organisers of the festival said of the tragedy: "The decision to not stop the festival immediately was made between the state and local security forces as well as our security management.
"We believe music and culture are a life celebration, therefore the festival will continue in order that we can pay tribute to all the artists that work everyday showing their talent in front of admiring and appreciative audiences. Pedro was a person totally committed to art, he deserves all our respect and admiration and we strive to ensure this.
"We, the festival management, would like to publicly express our absolute grief and desolation regarding the incident that happened yesterday while choreographer, dancer and workmate Pedro Aunión was performing. We would like to express our love and support to all his family and friends at this hard and devastating time."
Mad Cool was the last of a string of European dates for Green Day. On Tuesday (4 July), a show in Glasgow was cancelled due to "adverse weather conditions".
The band continue their world tour with North American dates, starting in August.