Taylor Hawkins On Liam Gallagher: "He's A F***ing Good Rock Singer"
28 November 2016, 16:47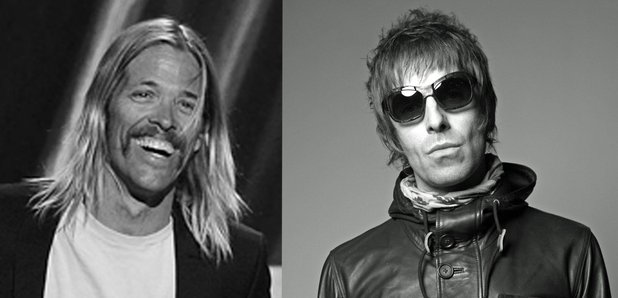 The Foo Fighters drummer praised the former Oasis frontman and remembered their "great nights out" together.
Taylor Hawkins has praised Liam Gallagher, calling him a "good rock singer" and one of the greatest frontmen of the last 20 years.
In an interview with NME, the Foo Fighters drummer reflected on the former Oasis frontman's vocal ability, and some of their good times together.
I'll tell you something about Liam Gallagher," Hawkins revealed. "That guy is such a fucking good rock good singer. When people talk about Freddie Mercury, they're like 'Oh my god, he's so outrageous' – a lot of people just skip past the actual thing of what it is that made them great.
"I watched that Oasis documentary [Supersonic] the other day, and there's this part were he just sings Champagne Supernova in one take in its entirety, and you just go 'oh fuck', you know, the reason we all liked him in the first place is because he's a fucking good singer. He can fucking sing a rock 'n' roll song dude."
The drummer - who recently unveiled his Range Rover Bitch video - didn't stop their either, sharing his previous stories about the band and his hopes for an Oasis reunion.
He revealed: "It was such a fun time, 1995-96, it was amazing. I remember their bus would pull up, outside of Ohio or New Jersey or something like that, and watching those two guys smacking each other, not even out of the bus. We're going ' oh my god, there they are the real deal'.
"They look amazing and they're beating the crap out of each other and I can't even understand a word they are saying. I had a couple of great nights with them [and] Liam back in the day, back in the 90s."
"Every time I see him I get a big hug," he revealed.
"I love him. I think he's one of the great frontmen over the last 20 years, no question. As far as a guy who can hold a microphone and sing, and really not do much of anything. He can move, one little sway, his hair's always impeccable and he's always got the best sweatshirt you've ever seen in your life."
Talking about his hopes for an Oasis reunion, Hawkins added: "I hope him and his brother can get his shit together. I mean come on boys, everyone wants to see Oasis again, give us a break – come on!"