The evolution of Arctic Monkeys drummer Matt Helders
7 May 2022, 08:00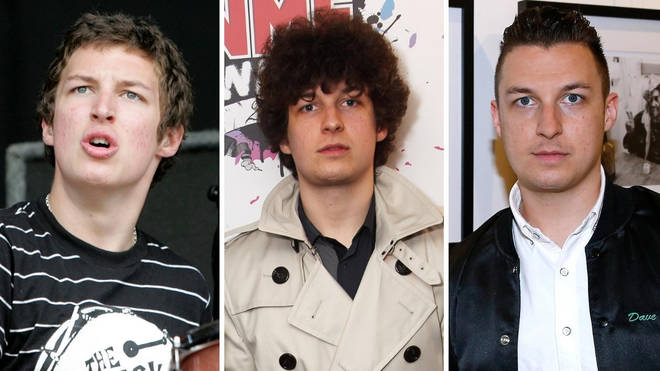 As the Arctic Monkeys drummer celebrates his birthday, we look back at how far he's come from teenager to international rockstar.
Matt Helders turns 36 today, and to celebrate we're taking a look at the Arctic Monkeys drummer's evolution over the years.
It's hard to believe that when Helders first started playing drums in the Sheffield band in 2002 that he'd be performing and collaborating with the likes of Josh Homme and Iggy Pop a decade later.
Watch his transformation from spotty teenager to mega rock star in our gallery below.
READ MORE: Matt Helders talks timing of Arctic Monkeys seventh studio album
Early beginnings, 2006

Arctic Monkeys' Alex Turner, Jamie Cook, Matt Helders, Andy Nicholson in 2006. Picture: Photo by Andy Willsher/Redferns/Getty Images

Matt - who is pictured above with Alex Turner, Jamie Cook and original bassist Andy Nicholson - was one of the founding members of the band, who formed in 2002.

Lowlands Festival, 2006

Arctic Monkeys drummer Matt Helders plays Lowlands Festival 2006. Picture: Paul Bergen/Redferns

In Peter Sorel-Cameron's book Arctic Monkeys - Uncensored on the Record, Helders has been quoted as saying his choice of the drums was a pragmatic one, because "that was the only thing left".

"When we started the band, none of us played anything. We just put it together. They all had guitars and I bought a drum kit after a bit".

Mercury Awards, 2006

Jamie Cook, Matt Helders and Alex Turner at the 2016 Nationwide Mercury Prize awards. Picture: Dave Hogan/Getty Images

In 2006, Arctic Monkeys took home the Mercury Prize for their debut album, Whatever People Say I Am, That's What I'm Not.

Their acceptance speech saw Alex Turner already displaying his wit when it comes to taking home an award.

Helders, however, made a rather clumsy comment about how young the host, Jools Holland, looked.

BRIT Awards, 2008

Arctic Monkeys Matt Helders, Nick O'Malley and Alex Turner at the BRIT Awards 2008. Picture: JMEnternational/Redferns

Who can forget when the Arctic Monkeys dressed up as farming gentlemen at the BRIT Awards?

Helders took his costume very seriously and completed it with a cane and a smoking pipe.

NME Awards, 2010

Matt Helders at the 2010 NME awards. Picture: Dave Hogan/Getty Images

Remember Matt Helders sporting this curly 'fro back at the awards ceremony in 2010?

Us neither...

The Post Depression exhibition, 2016

Iggy Pop, Matt Helders and Josh Homme attend the Post Depression Art Pictures Exhibition At French Paper Gallery In Paris. Picture: Bertrand Rindoff Petroff/Getty Images

2014 saw Helders become a musician in his own right, playing the drums on Iggy Pop's Post Pop Depression album.

Collaboration, photography and producing

Good Cop Bad Cop.

Picture: Press

That's not where Matt Helders stopped. The drummer not only takes part in photography, he also opened a cafe in Sheffield called Ambulo in 2019 and launched Good Cop Bad Cop, a collaborative project with with Milburn frontman Joe Carnall.